Reserve online
PurPur Aparthotel, Prague
and save with our discounted rates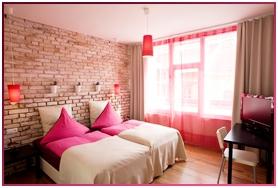 The Purpur Aparthotel is located in the centre of Prague, very close to the Wenceslas Square, as well as the most important attractions of the city.

Our hotel is equipped with 22 modern studio apartments, at few minutes from the clubs, pubs, restaurants and shops of the city.
We serve breakfast from 7 to 10 a.m. Our reception is always open.

You will also find 7 parking places for your car (at 15€ per day) and several other places for your bicycle.
Our apartments are provided with several services and amenities, which include shower, WC, hairdryer, make-up mirror, flat-screen TV with satellite channels, kitchenettes, mini-bar and wi-fi.

Computers are available at the reception, as well as a luggage storage.

A private terrace completes the apartments and, for all other rooms, you will enjoy a huge outdoor terrace at the back of the building.

The staff speaks many languages and is professional: it will help you to discover the city, located at just few minutes from the hotel and so easily reachable.
Give us your Feedback
PurPur Aparthotel, Reznicka, 15 - Prague